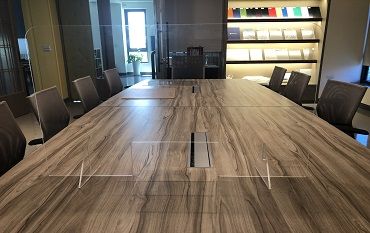 Acrylic Safety Shield
COVID-19 virus outbreak is now happening across the world. Acrylic sheet effectively prevent the virus from spreading through sneeze and cough which is a safety solution for this time.This acrylic barrier can be applied to the staff dining room table, office table, meeting room table, cashier counter, retail counter...etc. Acrylic sheet is easy to clean, high transparency, high impact resistance, and anti-UV.
Kao-Chia provides customize cutting services. If you have a request for an acrylic sheet barrier please feel free to contact us.
---
05 Apr, 2020
Depending on the client's applications you can choose clear or matte acrylic shield. The clear acrylic shield widely used in places we need to see each other such as resturant, cashier, nail salons, offices. Whereas matte acrylic shields can be used in places that need privacy such as libraries, clinics.
Why choose us?
1. Premium material
Use 100% new acrylic sheet material, make sure transparency.
2. Clean room production
Acrylic sheets produce in a clean room, filter dust and impurity make sure product transparency.
3. Individual Packaging
We provide individual packaging for each set of acrylic sheets. (Customise printing upon request)
Application
Related Products

AE000

Clear Acrylic Flat Sheet has a high gloss effect, excellent chemical resistance, weather resistance, high rigidity, anti-electric insulation, and durability....

Details
Download Catalog
Kao-Chia's product introduction.

Download
Kao-Chia green products (GPPS Sheet, Acrylic Sheet, PE Products). Enjoy your life and protect the earth.
Based in Taiwan, Kao-Chia Plastics Co., Ltd., since 1990, is a protective film and coating supplier and manufacturer. ISO certified protective film and GPPS sheet with more than 40 kinds of patterned plates.
One-stop production, blowing bag & film process, to produce protective film that could be used on GPPS sheet and PMMA sheet firmly for effective protection. The quality and after-sales service of Kao-Chia's protective films are our commitment to you, so we provide one-year warranty.
Kao-Chia has been offering customers high-quality PE film, GPPS sheet and acrylic sheet, both with advanced technology and 32 years of experience, Kao-Chia ensures each customer's demands are met.