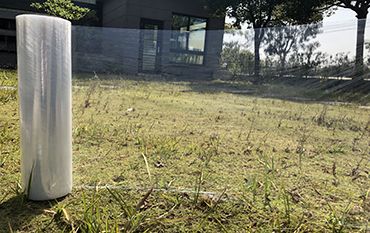 PE Stretch Film is specially designed by Kao-Chia Plastics.
In 2021, Kao-Chia rolls out a new product PE stretch film, produced by a brand new machine with five layers extrusion technique to ensure quality stability, accurately control inner and outer layer material distribution. Also, with over 40 years of extrusion experience, quality first is our priority, Kao-Chia stretch film only using 100% new material not only maintain high clarity also increase product recognizability, it's indispensable packing material for the manufacture, transportation, and storage industry.
---
05 Jan, 2021
The advantage of hand stretch film is high mobility, the worker can pack everywhere and anywhere, doesn't have to be a specific place. Also, hand stretch film has up to 150% stretch rate which means one 1000M roll of film can wrap up to 1500M of the pallet, reduce cost. The average weight per hand stretch film is around 2~4kgs and is suitable for the transportation industry.
Compared to hand stretch film, machine stretch film has up to 200~250% stretch rate, under 1000M roll you can wrap 2000~2500M pallet. Also, machine stretch film can reduce work injury, reduce dizziness while wrapping in a circular motion, and prevent worker hand and back strain.
After choosing the correct product, choosing the correct thickness by the product you want to wrap is the right way to decrease cost. For example: when packing sharp products such as a wood pallet, choose 20µm is safer than 17µm, also reduce product waste.
Currently, Kao-Chia has 4 standard thicknesses, customize is available if order a large quantity.
Why choose us?
1. Premium material
Use 100% new LLDPE, with an additional agent for increasing product clarity.
2. Reduce cost
Kao-Chia's stretch film is highly stretchable and stiff, under the same length you can protect more pallets, helping clients reducing packing costs.
3. Latest technology
Produce with a brand new machine, high quality, and stable supply.
Product specification
Case Study
The client uses stretch film to bound cargo tightly, prevent cargo from collapsing during transportation.
Related Products

GT UB Series

Hand stretch film features good puncture resistance, high stretch rate, good tear resistance, and high clarity. With mentioned characteristics our hand...

Details

GT ME Series

Machine stretch film is suitable for factory that uses wrapping machine and has a constant and non-stop production line. According to our packing experiences...

Details

GT DD Series

The stretch film is a greener version of the current regular stretch film formula of LLDPE plastic. The stretch films are thinner and have an equivalent...

Details
Download Catalog
Kao-Chia's product introduction.

Download
Kao-Chia green products (GPPS Sheet, Acrylic Sheet, PE Products). Enjoy your life and protect the earth.
Based in Taiwan, Kao-Chia Plastics Co., Ltd., since 1990, is a protective film and coating supplier and manufacturer. ISO certified protective film and GPPS sheet with more than 40 kinds of patterned plates.
One-stop production, blowing bag & film process, to produce protective film that could be used on GPPS sheet and PMMA sheet firmly for effective protection. The quality and after-sales service of Kao-Chia's protective films are our commitment to you, so we provide one-year warranty.
Kao-Chia has been offering customers high-quality PE film, GPPS sheet and acrylic sheet, both with advanced technology and 32 years of experience, Kao-Chia ensures each customer's demands are met.